So for those of you who don't know this, I'm a gamer. I don't think I game enough to be considered "hardcore" (since gaming is not allowed using the dorm internet,) but I take the game seriously enough to not be called a "casual".
I'm currently playing Dark Souls II (twinblades are awesome) but I play MOBA's by preference. Specifically, League of Legends. Specifically, the Philippine server.
Now my country has not had the greatest track record in the international community (not talking about games yet here). We get butthurt real easily, we take pride in the wrong things and generally act retarded for the most part. So it should really be no surprise that in gaming, we're twice as bad.
Context on my part: Since I avoid ranked like the plague and generally game by myself, I often find myself either in Solo Queue or Team Builder. While I thank Riot Games for that wondrous addition to the game, the fact is that it takes me about 20 minutes to find a team, another 20 to have a completed team, and finally another 20 to actually find a match, that thanks is rather diminished. So for the sake of brevity, I go to solo queue- normal.
Which is possibly the worst thing you can do in LoLPH.
Here are a few reasons why.
1. People have no idea how roles work.
I had a game where I was Quinn, and for some reason, I had a Darius with in bottom lane. He ended up being kited by the enemy team while I had to sneak around… because the bastard kept ulting the people I was whittling down, denying me a full kill streak (and gold.)
Here's what's wrong with this picture:
While I understand that carries are not limited to ADR's (attack damage ranged for those of you who don't know) it seems rather stupid to get all the kills when you can be kited like a Shen with no boots chasing Ashe through the jungle. It just won't happen. People here seem to fail to realize that there are some characters that need kills in order to scale late game, and their job is to walk in, cause as much fuckery as possible while said character takes potshots at the enemy team (in particular, I love ulting the enemy team with the reworked Sion and just totally wrecking shit.) In my example above, what happened was a Darius that kept getting slowed by an enemy Zilean, and had the audacity to run back to me… carrying a time bomb.
2. In general, Murphy's Law applies to ALL potential teamfights.
I have yet to play a normal game where a clash went off without a hitch. Someone, somewhere, will miss their Stranglethorns, shoot an Enchanted Crystal Arrow at Yasuo's Wind Wall, or more recently, will miss Sion's ult, resulting in a hilarious (yet ultimately disadvantageous) fail.
Here's what's wrong with this picture:
Alright, so clashes are generally the biggest clusterfuck you can find in League. Spells everywhere, everyone going berserk and you have no idea where your character is with all the fancy particle effects (I'm looking at you, Pulsefire Ezreal,) but in general, there should be a law that mandates a two to three minute discussion with your team whether or not Garen should run in the Baron pit while the enemy is there trying to kill it as Anivia casts her ult. If it can go wrong, at least it can be prepared for. If it does go wrong, no great loss. What we have is merely a failure to communicate- or at least to communicate coherently.
3. People are astonishingly careless/Research, research, research.
My last game before writing this article was with an Azir had no idea if he scaled off ability power or attack damage and didn't tell us. He then ended up using attack damage runes and masteries, building a Bloodthirster with Trinity Force. Needless to say, he died swiftly while wondering "Why aren't my soldiers doing damage?"
Here's what's wrong with this picture:
I get it. Either you got a call, your kitten ran across your keyboard or you momentarily got displaced in time and replaced with a stupider version of yourself- you make mistakes. I myself had a memorable game where I ended up using ability power runes and masteries on Darius top. However, the essence of any MOBA is to adapt accordingly towards situations like that. In my case, I ended up building pure tank for Darius with no damage items whatsoever- we ended up winning, not without a bit of effort. In cases such as the Azir above though, it's a different case. Do not, I repeat, do not play a game with other people when you have no idea what you are doing. Some people like to play for the sake of playing- some people, like me, play because we want to win. You will be a giant weight on the entire team if you do not adapt to that mistake accordingly, and will most likely get reported.
4. Bots don't exist here.
Or at least, training in the sense. For some reason, like the Azir case above, people will play normal or ranked games with characters they have no idea how to use.
Here's what's wrong with this picture:
Do I really need to explain it? The bots are there for a reason, people! At least have the decency to try your skillshots against training dummies rather than an enemy team and put your entire team behind for feeding. Apologizing will not destroy their nexus or will keep ours intact. In my case, whenever there's a champion I've never played before and wish to try, I often just play a game by myself, getting the hang of how the skills work and how effective they are. Usually not even against bots- but I make it a point to stay away from human opponents until I at least have a semblance of being adept at the skill order of my champion.
5. People are generally stupid.
This is probably numbers 1-4 in a nutshell. We have players who can't land a Blitzcrank pull to save their lives, Garens that will always run in the middly of the enemy team while everyone's at base, Singeds who will Fling a Rammus into our team, Sivirs who will insist on getting blue buff instead of defending the inhibitor turret, Shens that taunt the AP caster and not the AD carry, and people who have no idea that stunning Katarina in the middle of her ult will stop it.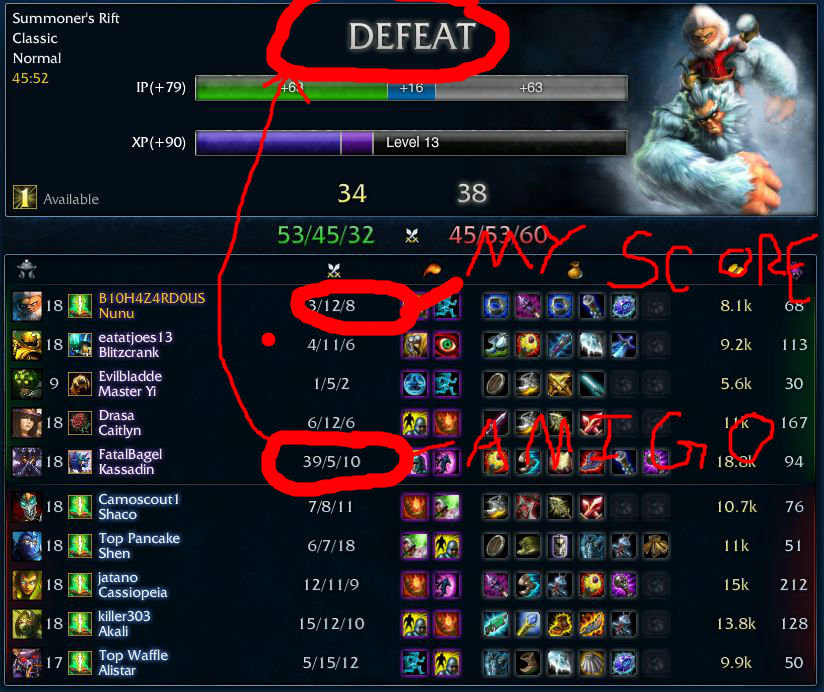 Here's what's wrong with this picture:
Mistakes will be made, and we will cry and rage about it. However, in PH, it's mostly just mistakes. It seems like the vast majority of players here have no idea how to play, and when called out, will only play worse. They seem to lack the ability to reason out the most basic of tactics (such as facechecking the brush when they're playing Zyra) cannot seem to follow simple instructions (please for the love of God Charm Vayne, not the Leona, Ahri!) and generally, seem to do more harm than good (cue the Hecarim who shows up at the end of the clash and immediately gets focused to death). Other people learn from their mistakes- most Filipinos seem to be hell-bent on making them again and again.
There are a hundred more things I'd like to say about Solo Queuing here in the Philippine server ( actually, League Of Legends in the Philippines in particular,) but I'll leave them for next time. Now if you'll excuse me, I'm off to make breakfast while waiting for Team Builder to find me a group. Shouldn't be long now, I'm currently at 22 minutes and 14 seconds in queue. Good riddance.
-_-"